A PROJECT WITHOUT BOUNDARIES
Urban development on the border between Sweden and Finland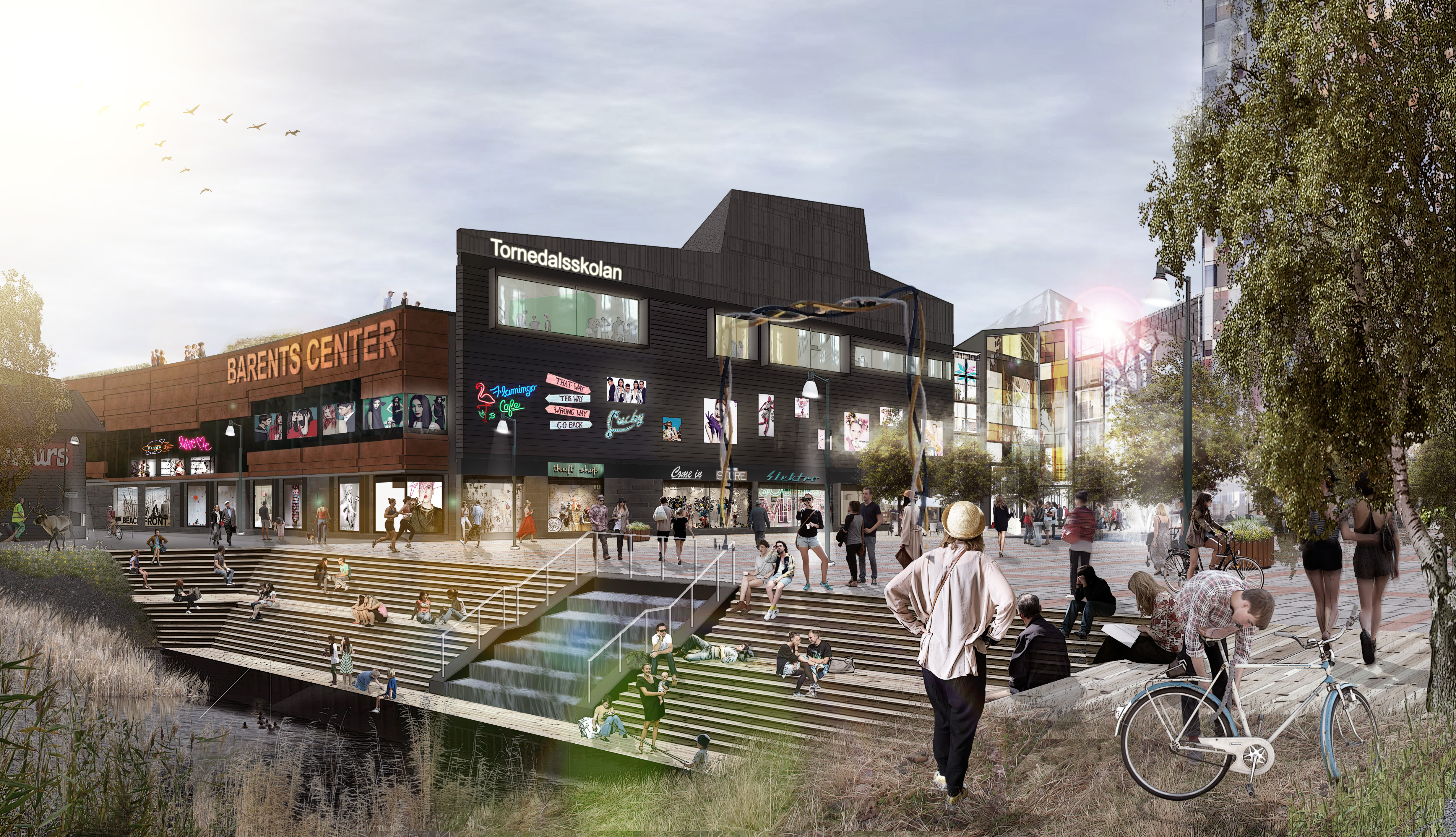 This concept was for an entire centre filled with retail stores, offices, a multi-purpose arena, high school, restaurants, cinema, conference facilities, hotel and parking both above and below ground. Different activities would coexist and overlap around the clock. The design created synergies and emphasised the shared use of different surfaces in the buildings. The project was ultimately not realised, as the client withdrew from the project with the municipality.
With its location at the bottom of the Gulf of Bothnia on the border between Sweden and Finland, Haparanda and Tornio combine to form a cross-border twin city. Haparanda/Tornio is today one of Sweden's top border trading destinations. IKEA established itself here in 2006, which has contributed considerably to trade development. Over 14 million border crossings per year are made here. The catchment area is geographically widespread as there are no other trading destinations nearby, and a 300 km round trip to shop or attend an event is not uncommon. The customer base comes from both the Finnish and Swedish sides of the border and the Barents Centre was expected to generate high sales. The primary and secondary catchment area is estimated to include some 130,000 inhabitants. A lot of Russian and Norwegian tourists also travel to Haparanda/Tornio.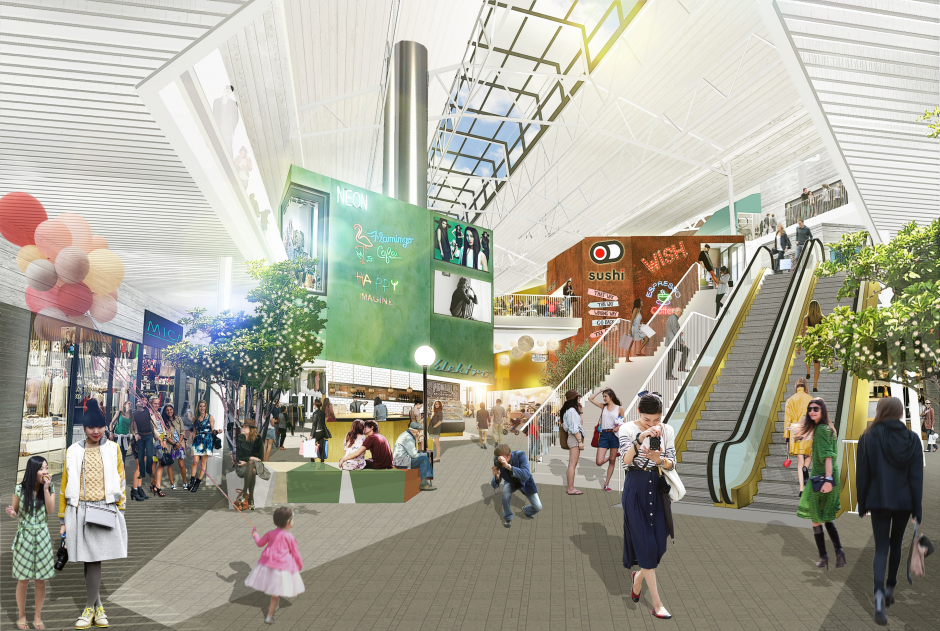 The total area of the planned centre amounted to approximately 120,000 square metres. The parking facility was envisioned to accommodate about 1100 cars distributed in a parking garage to the north with ground level parking, plus 3 parking decks and an underground parking garage. Trade on two floors would have housed some 70 shops, restaurants and services covering about 30,000 square metres. This was to be divided into two buildings north and south of a public walkway. A third floor included a cinema, a high school for about 250 students and office space. A multi-purpose arena for Swedish ice hockey matches and events for up to 4,500 people was also planned, as well as an adjacent 20-storey hotel on the border between Sweden and Finland.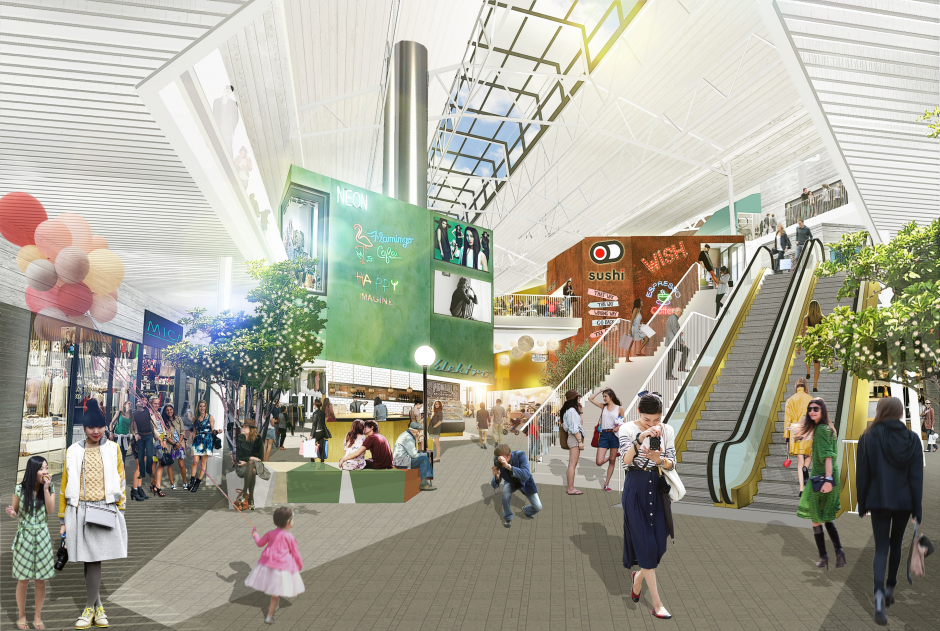 Den planerade centrumanläggningens bruttoyta uppgick till ca 120 000 m2. Parkeringsanläggningen dimensionerades för ca 1 100 bilar fördelade på ett parkeringshus i norr med markparkering och 3 p-däck samt ett parkeringsgarage under mark. Handel i två plan skulle hysa ca 70 butiker, serveringar och service om totalt ca 30 000 m2. Detta fördelades på två huskroppar, norr respektive söder om ett publikt gångstråk. Ett tredje plan innehöll biograf, gymnasieskola för ca 250 elever, samt kontorslokaler. En egen huskropp skulle utgöra en multiarena för allsvensk ishockey och evenemang för upptill 4 500 personer. Intill planerades dessutom ett 20 våningar högt hotell på gränsen mellan Sverige och Finland med byggnadsvolym i båda länderna.
Kontaktperson
Fredrik Rosell