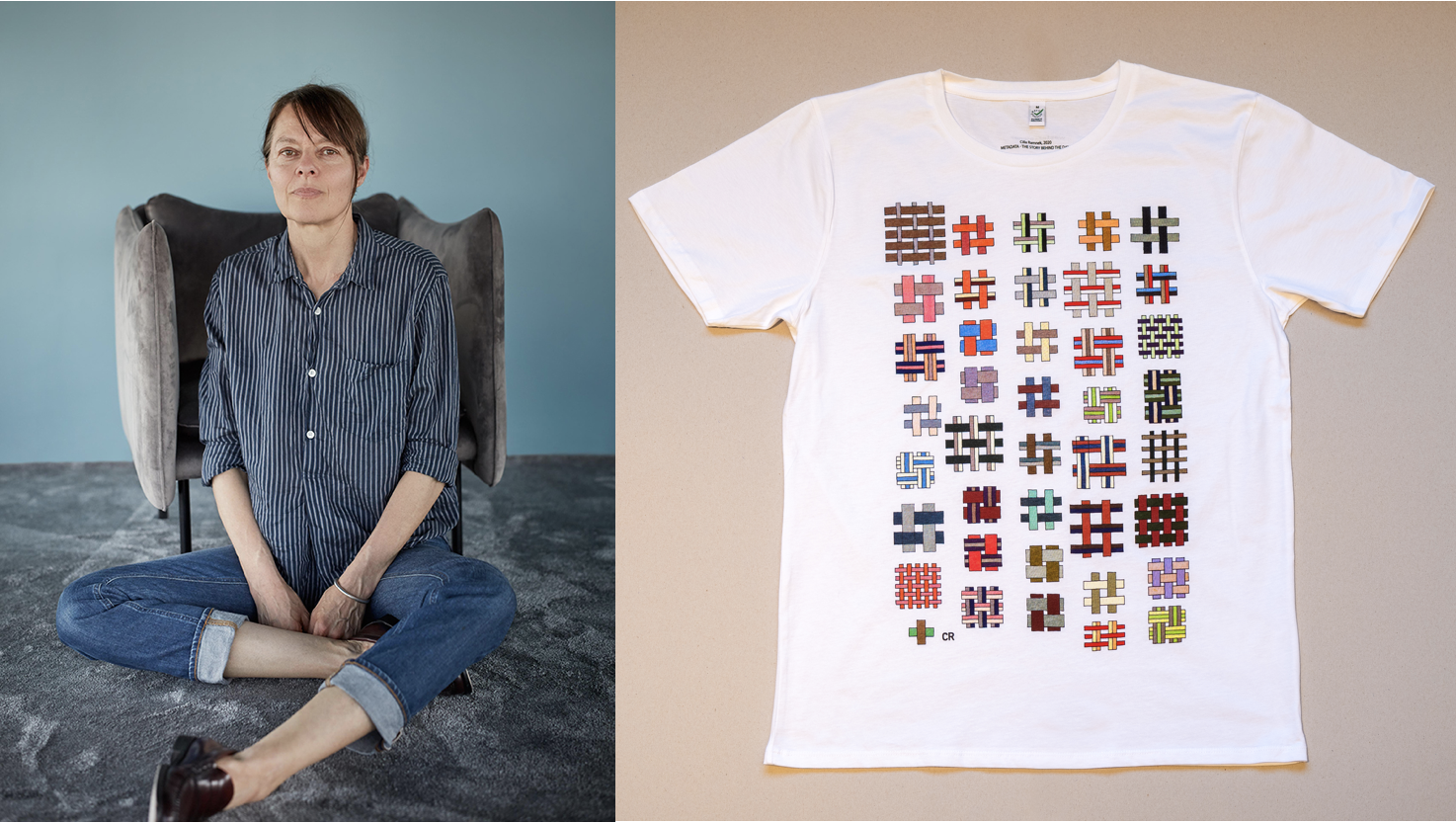 CILLA RAMNEK'S UNIQUE PATTERNS FEATURE ON THIS YEAR'S SUMMER T-SHIRT
Our tradition of creating artistic summer t-shirts continues. This year we had the pleasure of collaborating with Cilla Ramnek, whose cartoon woven squares create a unique motif and pattern.
"I have never had the patience for weaving, but I love the theory of it", says the artist.
Cilla Ramnek is a versatile and experienced artist with an aesthetic touch, boldness and sense of humour. She has had solo exhibitions in Tokyo as well as other world cities, and has created a wide range of fascinating public works. Right now she is working on, among other projects, a large lighting installation for the new Järla Metro station.
One piece of work that we at Wester + Elsner Architects were particularly struck by was 'Flickorna på Globenområdet' (The Girls at the Globe), a district that we ourselves are also deeply involved in developing. Located right next to the Tele2 Arena, the 40-meter-high chimney covered with pink bows rises against a bright yellow background. It's a powerful symbol of inclusion, and sparks an exciting dialogue with the surrounding architecture.
"A lot of art in public environments is still very modernist and masculine. I wanted to do something that little girls can recognize themselves in, something out of their mythology," she explains.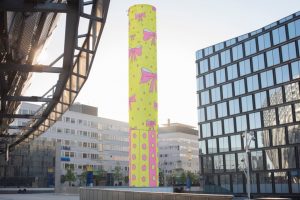 The motif on our summer t-shirt was created in Cilla Ramnek's studio. She often draws on squared paper, saying "a white sheet is too lonely to work with". She explores patterns and tries to move them from one context to another in order to see how their meanings change.
Such an 'exchange' has also taken place with her drawn woven squares and traditional fencing motifs. They are not only on our t-shirts, but can also be seen in a mural at the Visby Gärde tenant association on Gotland, just outside the city wall.
"It became my own little twist on the whole thing. To be able to display it on a huge scale on a wall and then in this tiny format, which everyone can wear".
Our employees now wear the t-shirts with pride. The artist is also pleased with the end result and the processes that led to it.
"It was an unusually fun job to do, really fun and it was a pleasure to meet you", she says.
We of course agree and would like to thank Cilla for a job well done. We also want to send out a big thank you to our employees and partners for all their hard work, and wish you all a really nice summer!.
 Making arty t-shirts since 1999
Our exclusive but easy-to-wear t-shirts are a summer tradition that we at Wester + Elsner Architects have produced since 1999. Every year we let an artist with whom we have some kind of relationship create the motif for our t-shirts, which we then distribute to our friends. It is our way of showing our appreciation to our clients, partners and supporters. As a bonus we also get an opportunity to honour the artists whose unique talents inspire us in our work.
Previous featured artists are:
2019 Mats Bäcker, Stockholm
2018 Bea Szenfeld, Stockholm
2017 Jens Ahlbom, Hudiksvall
2016 Stefan Uhlinder, Stockholm
2015 Lotta Kühlhorn, Stockholm
2014 Jenny von Döbeln, Stockholm
2013 Jacob Dahlgren, Stockholm
2012 Stina Wirsén, Stockholm
2011 Denise Grünstein, Stockholm
2010 Mikael Pauli, Stockholm
2009 Helene Billgren, Stockholm
2008 Lars Arrhenius, Stockholm
2007 Lars Kleen, Stockholm
2006 Sirkka Lehtonen, Stockholm
2005 Kjell Ekström Önningeby, Åland
2004 Anders Wallin, Stockholm
2003 Ulf Rollof, Stockholm
2002 Björn Wessman, Stockholm
2001 Bertil Vallien, Stockholm
2000 Fredrik Wretman, Stockholm
1999 Gunnel Sahlin, Stockholm
Portrait photo by Jockeono
Publicerad: 22 June, 2020