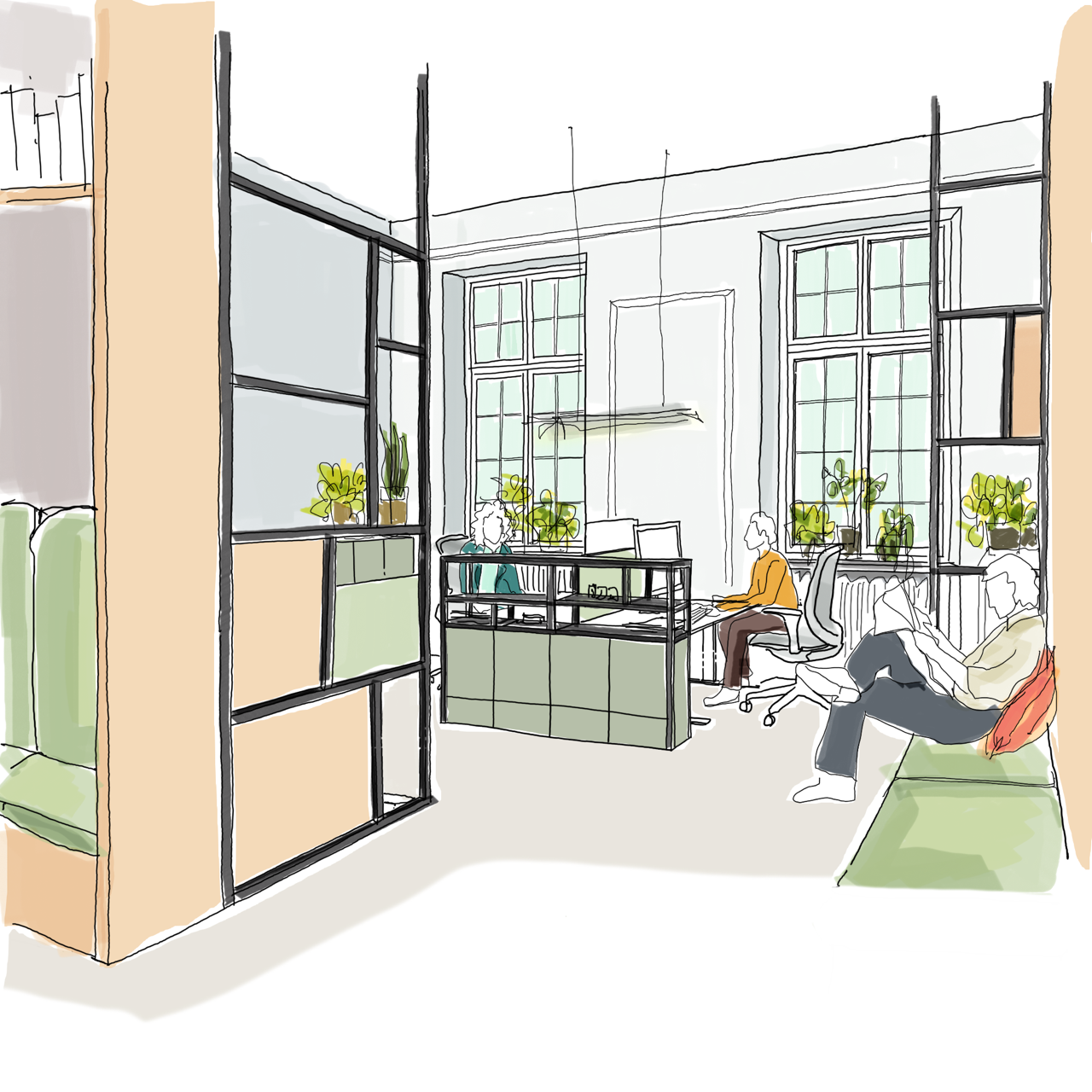 New inviting interior at Hälsingland's Sparbank
Wester+Elsner Architects continues collaborating with local companies in Hudiksvall as we help develop a number of properties in the city centre. Now Hälsingland's Sparbank, which has already undergone a successful facade renovation, is getting another make-over – with plans for an inviting and flexible interior.
"I must say It's an extremely fun collaboration", says Christian Merkel, the Wester+Elsner architect responsible for the interior design project. "The attitude of everyone at Hälsingland's Sparbank is extremely enthusiastic, and we are busy working on solutions together."
Following the renovation of the facade of this traditional stone building, it was time to update the interior. The project to oversee the work was awarded to Wester+Elsner Architects, whose influence can already be seen in several other locations around the city, such as the reconstruction of Aktivitetsfabriken and the new district court, which is currently under construction and is expected to be completed in 2022.
At Hälsingland's Sparbank we have opted to highlight the beautiful details of the original building by, for example, removing the dropped ceilings. With the help of organic forms, living greenery and flexible partitions we've created an inviting atmosphere. The serious and rigid look that many of us associate with the world of banking now seems a distant memory. Instead, the words "commitment, closeness and openness" sum up the mood here. The entrance level in particular will be an outward-looking, bright environment, which then shifts using more muted colours and subdued acoustics into a place for meetings of a more private nature.
Another key word to describe the project has been flexibility, something that is becoming increasingly important in architect assignments in general, remarks Christian Merkel.
"No matter how much we think we might know, we must always remain flexible in the face of change. No one knows today how office work will be conducted in the future. The Coronavirus pandemic has intensified some trends. For example, we now work more remotely and digitally, and some of these new behaviours will probably remain with us. We don't know yet how much things will change, and so therefore we must build flexibility and variation into our environments that will enable buildings to be used in a variety of ways. In addition, it is always nice to be surrounded by an environment that encourages different kinds of interactions and activities".
Christian Merkel appreciates his client's commitment to the project and believes there is something very special about this small city on the coast.
"I feel at home in Hudiksvall. Maybe it's because I come from a smaller city myself. There is a powerful sense of engagement from the people that live here which I feel is really positive."
Would you like to talk to us about the flexible offices of the future? Then please don't hesitate to get in touch!
Publicerad: 26 April, 2021