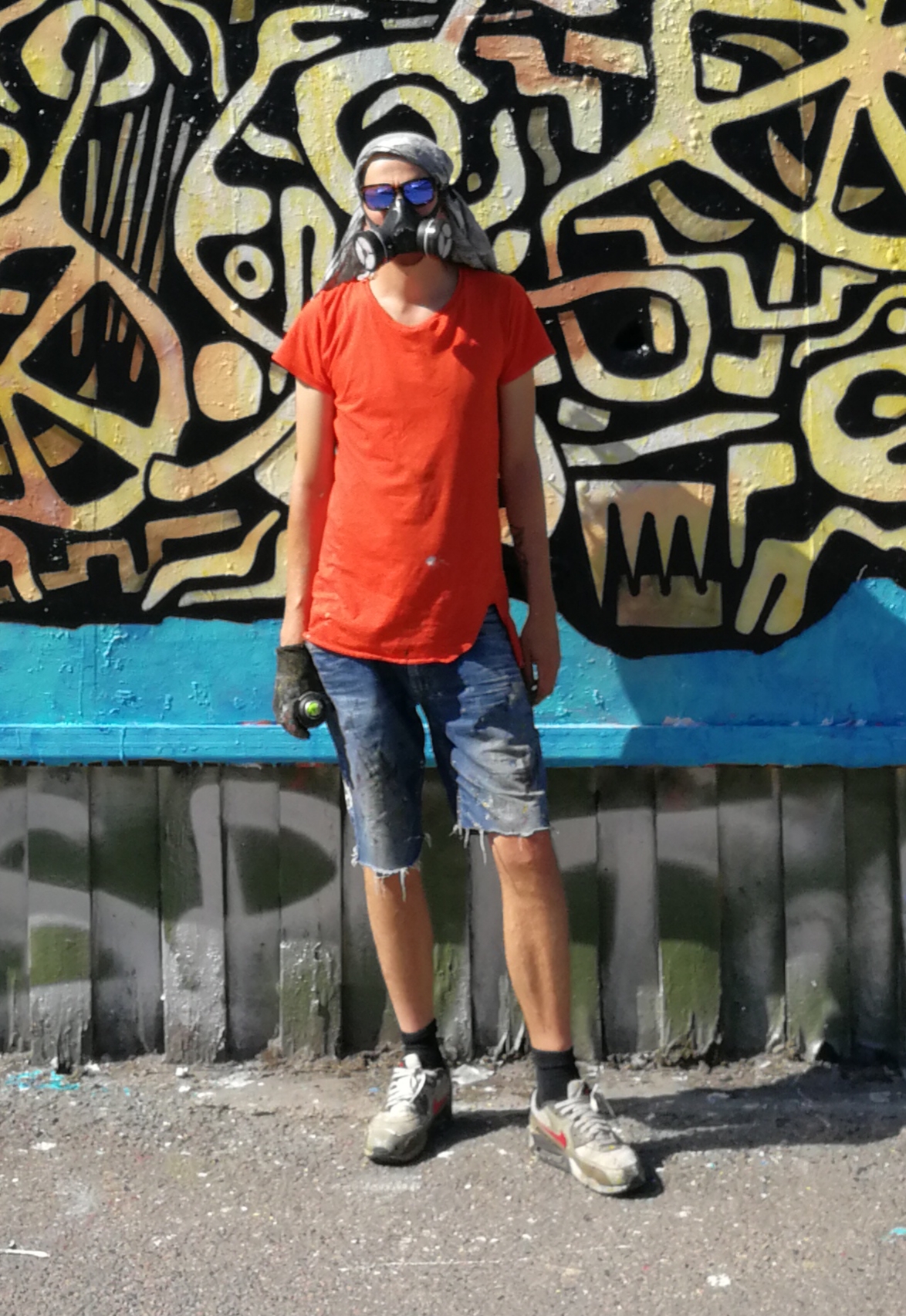 The striking art of Jonathan Ollio Josefsson on our yearly summer T-shirt
Ahead of the release of this summer's T-shirt from Wester+Elsner Architects, we had the pleasure of collaborating with Jonathan 'Ollio' Josefsson from Gothenburg. He is most famous for his hand-tufted rugs and large murals, but also works with other techniques and formats – not least printed T-shirts.

"The fact is I almost always wear one of my own printed T-shirts. There have been plenty of misprints over the years, so I have a huge collection in my wardrobe", he says.
Jonathan Josefsson's art career began in the nineties in the Gothenburg district of Majorna, when he somewhat reluctantly began to paint graffiti mostly "because everyone did". But something about the genre fascinated him and, using the pseudonym 'Ollio' (which he chose because it created a nice word picture) he began to develop his own special style. But at this point it was far from certain that he would end up working as an artist.

"I wanted to be everything possible – maybe an architect or an advertiser – and so I tried everything. A friend studied textile art at HDK Valand and suggested that I study there. There was a fantastic screen printing workshop there that I was desperate to get into, so I applied and got a place. Five years later, in 2007, I graduated."
Despite his formal education, Jonathan is not entirely comfortable calling himself a textile artist. The title 'artist' suits him better, because he works with several different techniques. He remains true to his graffiti roots and also creates handmade tufted rugs in vibrant colours and shapes.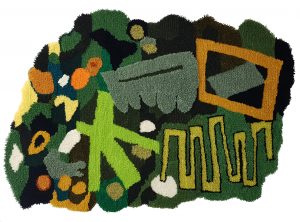 "When you tuft you shoot the yarn in with a tufting gun. It's a bit like painting, in that you build up the image colour by colour. It is a fun and fast textile method to work with".
His abstract and detailed images, which feature organic shapes and vibrant colours, fascinate both Swedish and international art and interior design fans alike. This summer, ten of his works will be on display at the Hong Art Museum in China's megacity of Chongqing. Right now in Gothenburg you can see his work in two places: the Botanical Garden, where one of his more sculptural works is being displayed, and at Stigbergstorget, where his large facade painting adorns the old Kaparen cinema building. He also appears on SVT Play in the first episode of 'Designhistorier', where his modern approach is featured alongside arguably the biggest name in Swedish textile history – Märta Måås-Fjetterström.
Jonathan carries around a loose-leaf drawing pad in his rucksack so that he can always draw whenever inspiration strikes. And now one of his cartoon motifs is being featured on a T-shirt in collaboration with us at Wester + Elsner Architects.
"It's been really fun! For the last twenty years I have made lots of T-shirts – both by screen printing and in collaboration with printing companies. I love this format, and being able to take one of my drawings or paintings and transfer it onto a piece of clothing".
Jonathan 'Ollio' Josefsson's ambition is to inspire others with his works, in the same way that he himself is inspired by other artists.
"Every time I experience something I like – it can be music, dance or art – I want to achieve the same experience for others. I become a happier person by being creative, and that is something I want to pass on".

We at Wester + Elsner Architects would like to thank Jonathan 'Ollio' Josefsson for his inspiration and this fun collaboration! And we'd also like to wish all our employees, clients, partners and friends a wonderful summer.
Creating artistic T-Shirts since 1999
Our T-shirts, which we have produced every year since 1999, have become a tradition here at Wester + Elsner Architects. Each year we let an artist with whom we have some kind of special relationship – or simply admire – create an original motif for our T-shirts, which we then send to our friends. It is our own way of showing our appreciation to our clients, partners and supporters, while at the same time paying tribute to artists whose unique talents inspire us in our work
Previous contributing artists are:
2020 Cilla Ramnek
2019 Mats Bäcker
2018 Bea Szenfeld
2017 Jens Ahlbom
2016 Stefan Uhlinder
2015 Lotta Kühlhorn
2014 Jenny von Döbeln
2013 Jacob Dahlgren
2012 Stina Wirsén
2011 Denise Grünstein
2010 Mikael Pauli
2009 Helene Billgren
2008 Lars Arrhenius
2007 Lars Kleen
2006 Sirkka Lehtonen
2005 Kjell Ekström Önningeby
2004 Anders Wallin
2003 Ulf Rollof
2002 Björn Wessman
2001 Bertil Vallien
2000 Fredrik Wretman
1999 Gunnel Sahlin
Publicerad: 22 June, 2021