From windswept traffic hotspot and garbage tip to urban life with two bustling squares.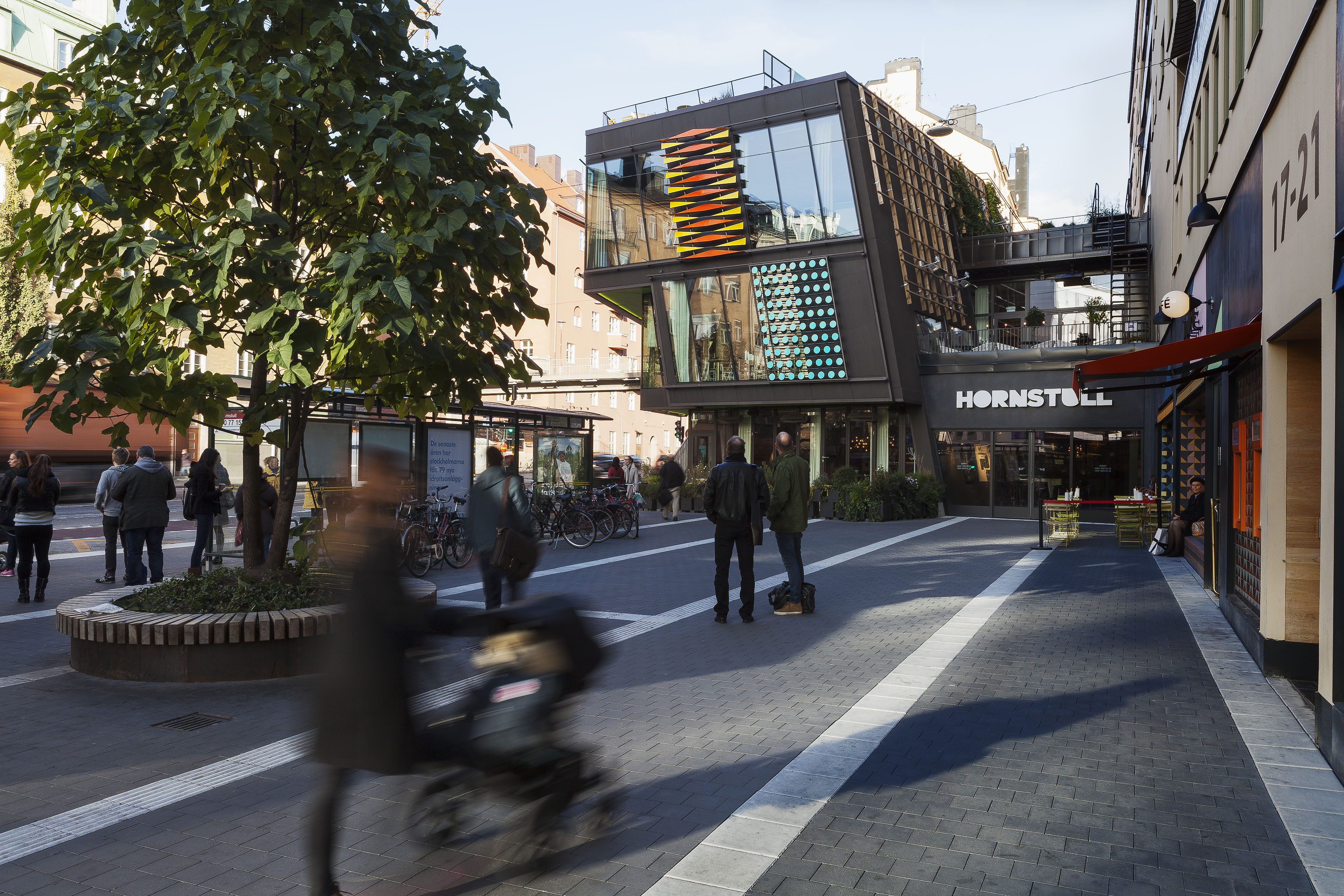 This landmark building emphasizes the boundary between the old city structure and its 1960s traffic regulations.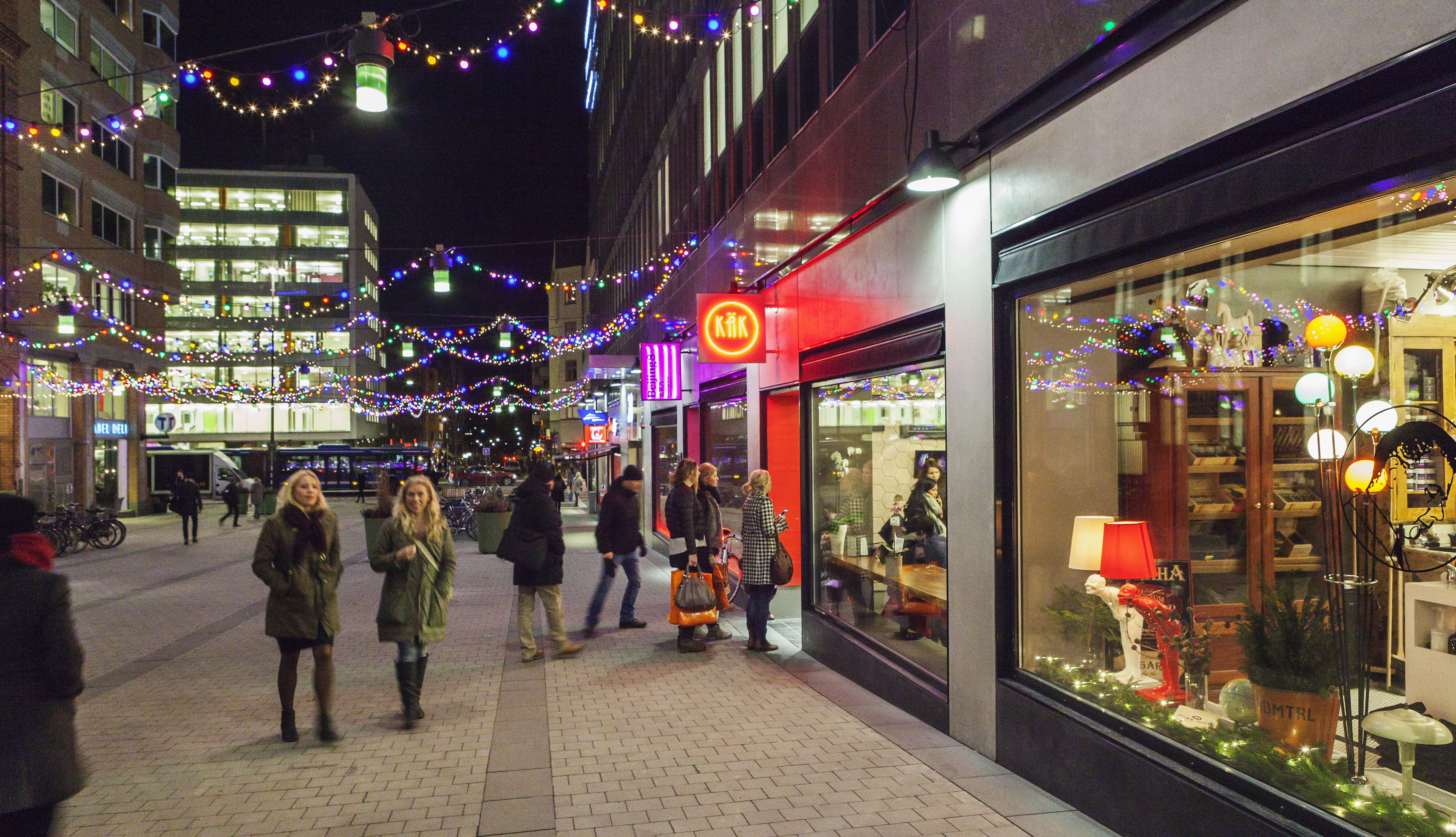 In Hornstull, Västra Södermalm, a new district centre was developed between 2009 and 2013. The centre added to,and developed the already existing structures and great care was taken to facilitate and enhance established patterns of movement in the area.
The project is made up of many parts, including new access points to residential areas, the refurbishment of facades and redesigned residential courtyard areas and facilities. Two new public squares have been created, together with retail space on two levels with connections to the Metro system.
A new three-storey transparent building is an eye-catching landmark on the square towards Långholmsgatan and connects to the shopping centre. The public character of the building creates new urban spaces by connecting the square to the footbridge over Långholmsgatan. The building serves as a focal point and is clearly visible from every direction. In addition the Bulten 19 office building has been rebuilt and refurbished, and an infill facade facing Borgargatan added. New traffic measures were introduced and the main bus line routes were redirected in connection with the rebuilding of the Metro entrances and the creation of a larger neighbourhood square.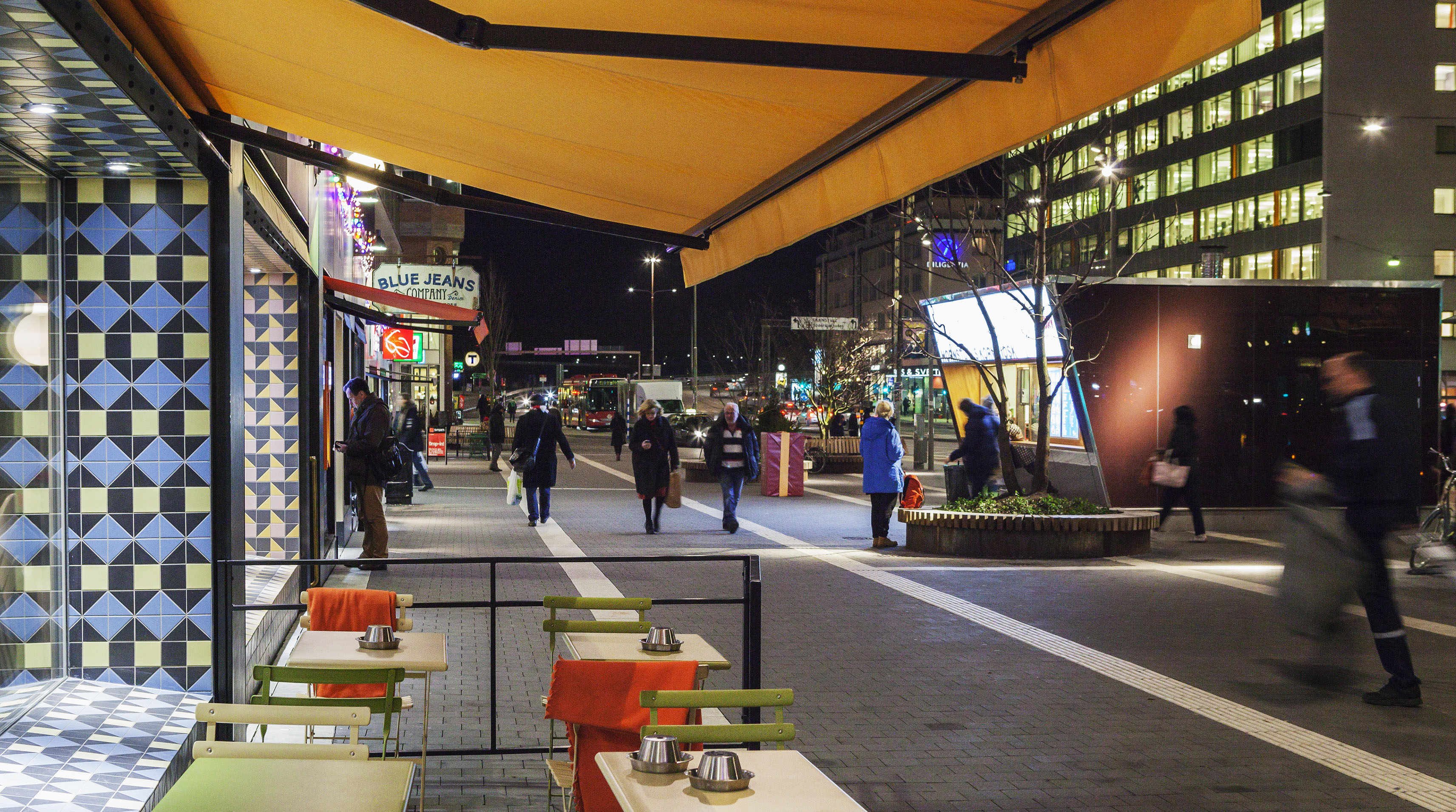 Our design is centred on our belief that the sum of all the stores' own profiles gives the shopping centre its unique atmosphere. The architecture serves as a background to the stores' own scenography, and we have encouraged the creative designs of commercial tenants. We hope this place is perceived more as an eclectic marketplace than a regular shopping centre. The concept allows for a more dispersed mix of stores than usual, where smaller independent businesses can be seen next door to more established chains.
In the Hornstull shopping centre there are a number of artistic elements that contribute to a sense of diversity, colour and a richness of details. The seating niches facing Långholmsgatan and the square are patterned, escalator floors and pillars have painted motifs and the landmark building's facades display larger works of art by Jakob Dahlgren.
The shopping centre has three distinct zones – each one with a different character. At street level the customer flows are relatively narrow, with open access to the shops to impart the experience of a market or busy bazaar. Here the environment is a little darker and crowded, with a range of mainly fashion stores. The inner part of the Metro level is designed as a market hall, with light tiled surfaces, high ceilings and a focus on food and drink.