At Wester + Elsner Architects we realised early on that any space should meet a multitude of needs for visitors – and not just one at a time. Liljeholmstorget's shopping centre is a good example of a multifunctional complex that continues to serve several key needs for Stockholm residents.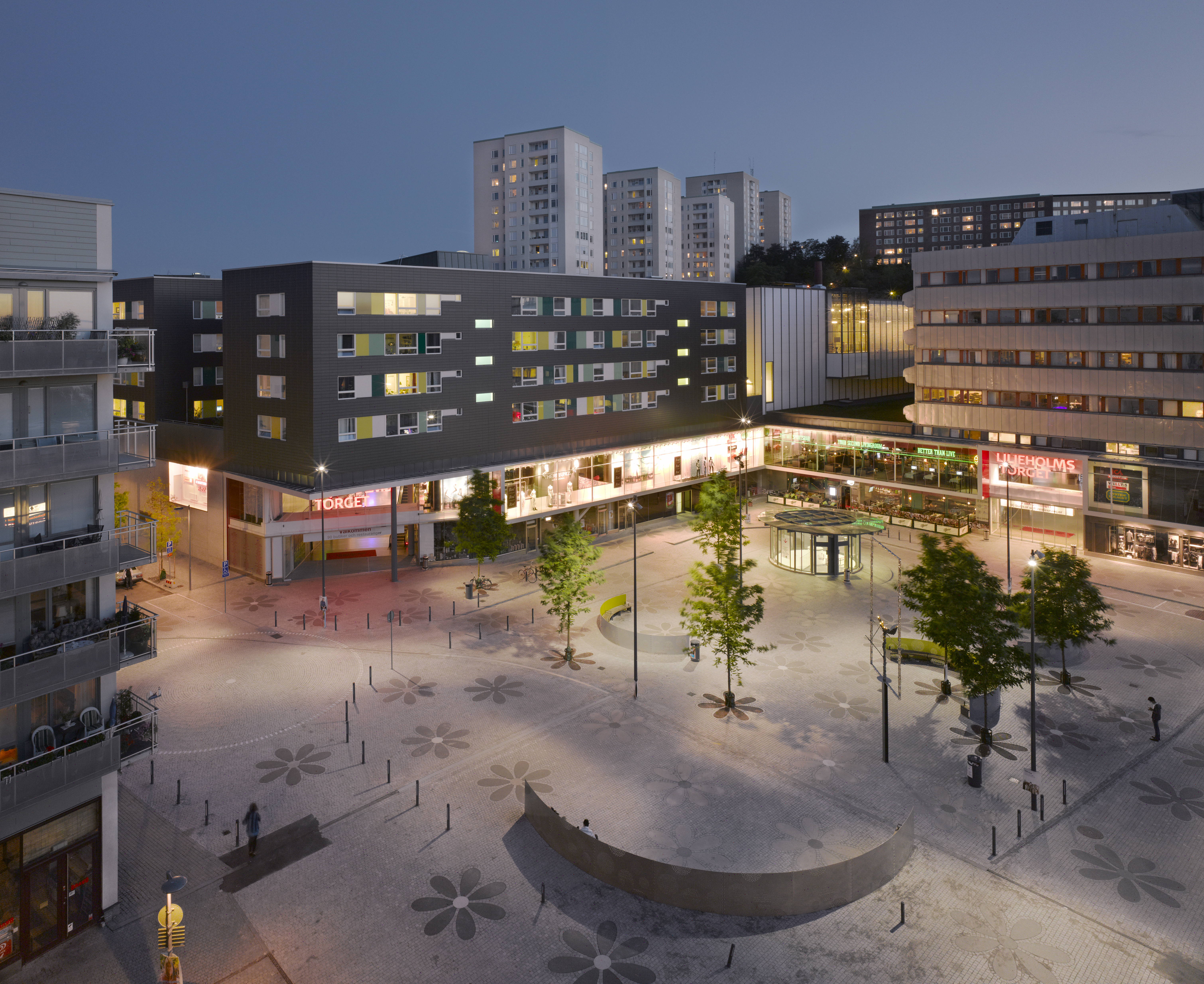 STRATEGIC POSITION
Liljeholmstorget's shopping centre is built on three levels and is a well-integrated part of the larger Liljeholmstorget project. With a comprehensive offering, plus additional elements and enterprises such as a local hospital, childcare centre, workplaces, housing, gyms, etc. it is one of the first examples of replacing 'single-use' urban construction in favour of multifunctional functionality that facilitates a holistic approach to urban life. With its strategic location and multiple levels, it is directly connected with the railway, subway, buses and its own multi-storey parking garage.
At Wester + Elsner Architects we were already convinced that multifunctional urban development was the future, especially for such a central location. Therefore it was important for us to achieve effective movement flows based on the existing conditions.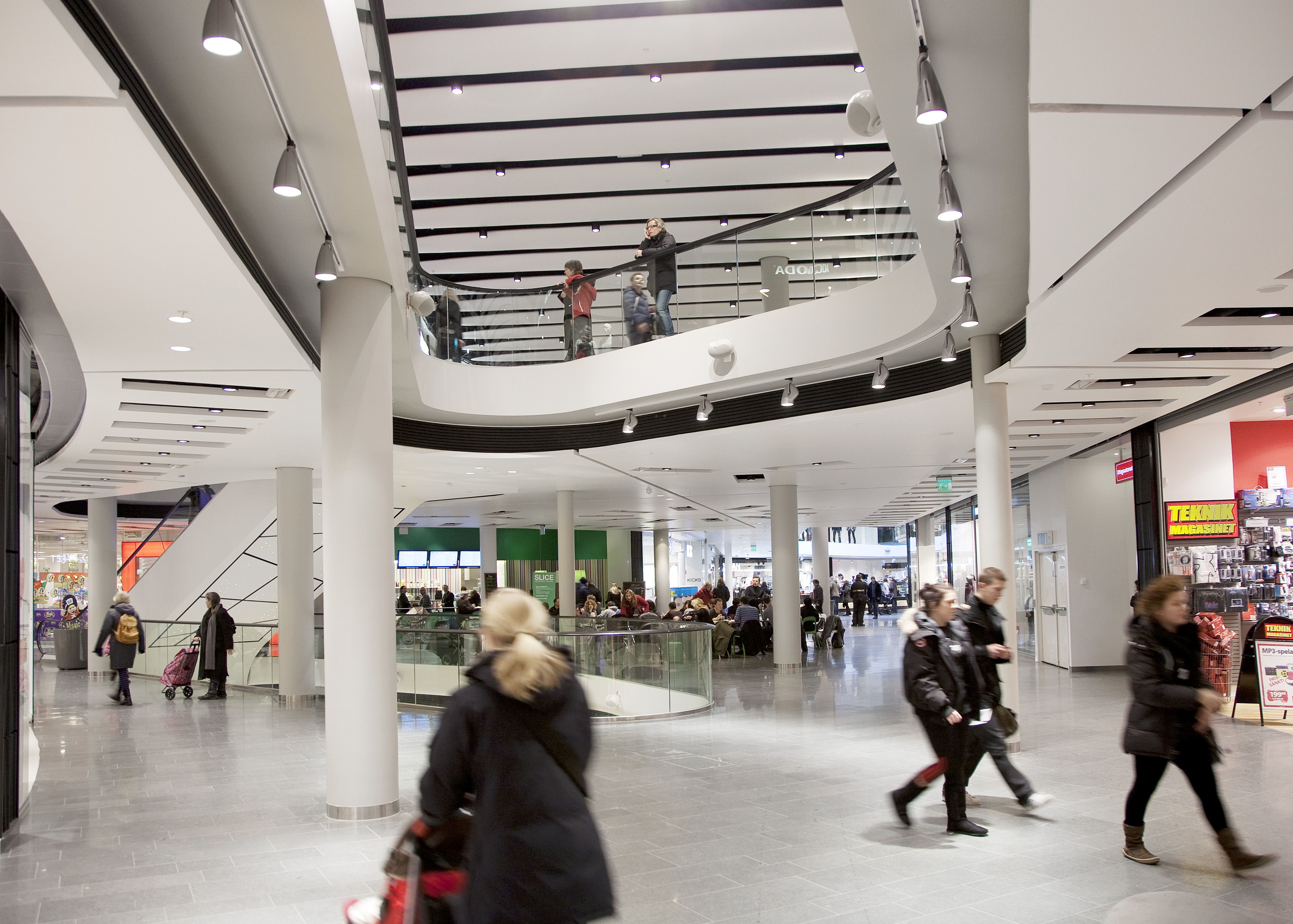 The project contained major challenges due to the significant topographical height differences of the site and the fixed locations for possible entrances. In addition there was an older existing building we needed to connect to. This resulted in a solution of winding pedestrian aisles, with multiple entrances to the square, the Metro and at the rear towards the parking garage. The organically-shaped pedestrian aisles meant creating design solutions that incorporated both turns and height differences. This resulted in, for example, 'icicle suspended ceilings' and 'surfboards' installed on the top floor. The latter were inspired by skeletal structures and wings. The idea was to have a cohesive inner roof that could rise, fall, tilt and swing.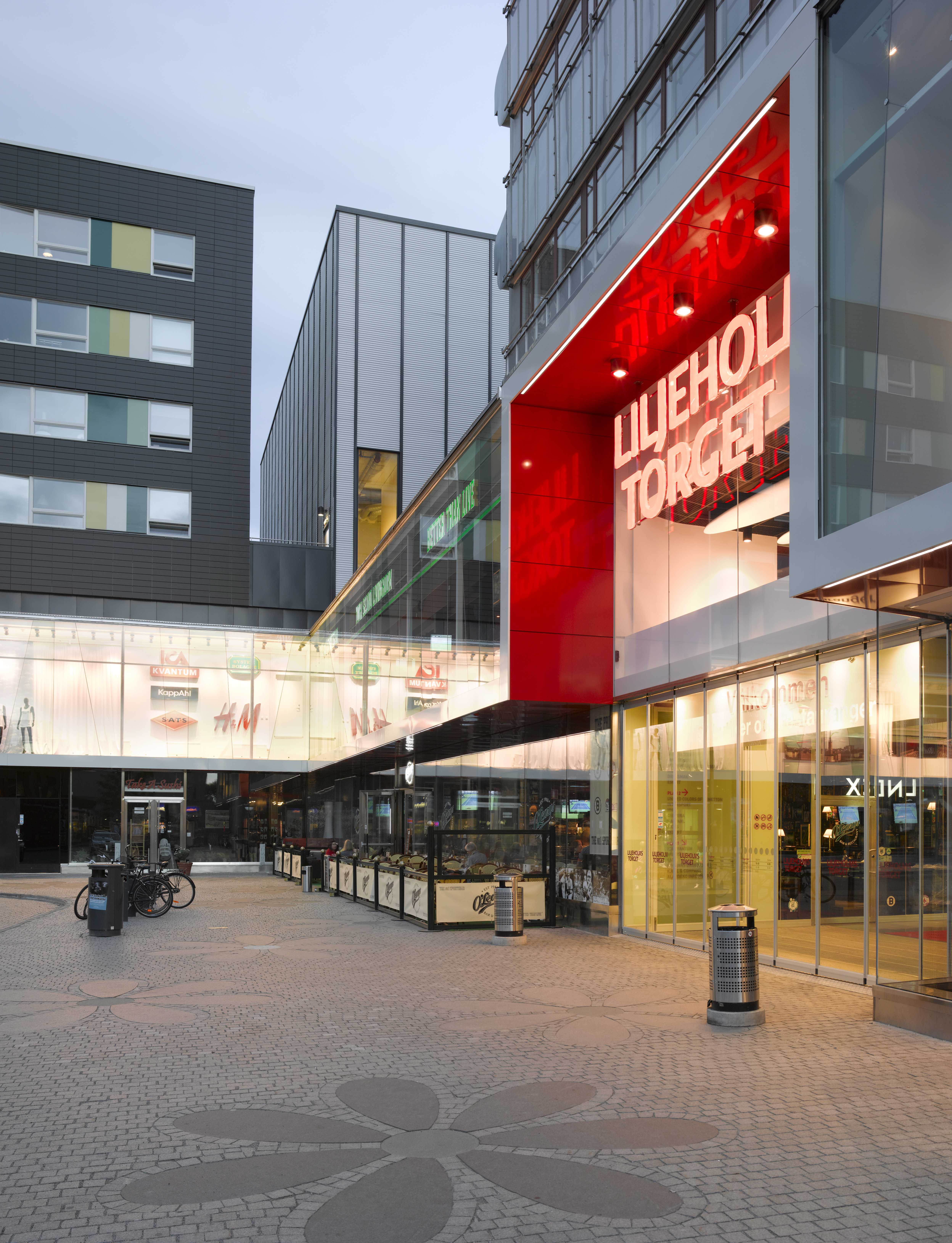 ENORMOUS POTENTIAL
In the autumn of 2009 a big piece of the puzzle fell into place when the square was expanded and the district received a substantial influx of trade thanks to Liljeholmstorget Galleria.
This was an assignment that has been created over a long period of time for several different clients. In the beginning it was a cinema palace for the now defunct cinema chain Sandrews, who brought in partners to develop it into much more than just a cinema. At the beginning of the 2000s, Liljeholmen was little more than a car park and a gravel slope up towards Nybohovsbacken, and there was a lack of buildings despite its central location.
We were already convinced back then that the area had enormous potential for urban life development.
After a few years of development and a new zoning plan, Citycon bought the project and envisioned it as a 3D property development. Citycon chose to work with Wester + Elsner Architects because we understood the flows and challenges and could deliver the best solution for the location.
We cooperated with Heba on housing and Equator Stockholm, where we were responsible for ideas, designs and the planning of the retail spaces and their relationship to the surrounding environment, plus a connection to the subway. In line with property owner Citycon's commitment to environmental and sustainability issues, the project was LEED-certified and became Europe's first shopping centre to be awarded its highest 'Platinum' accreditation.
Liljeholmstorget has received several awards for best shopping centre and the business continues to be enormously successful.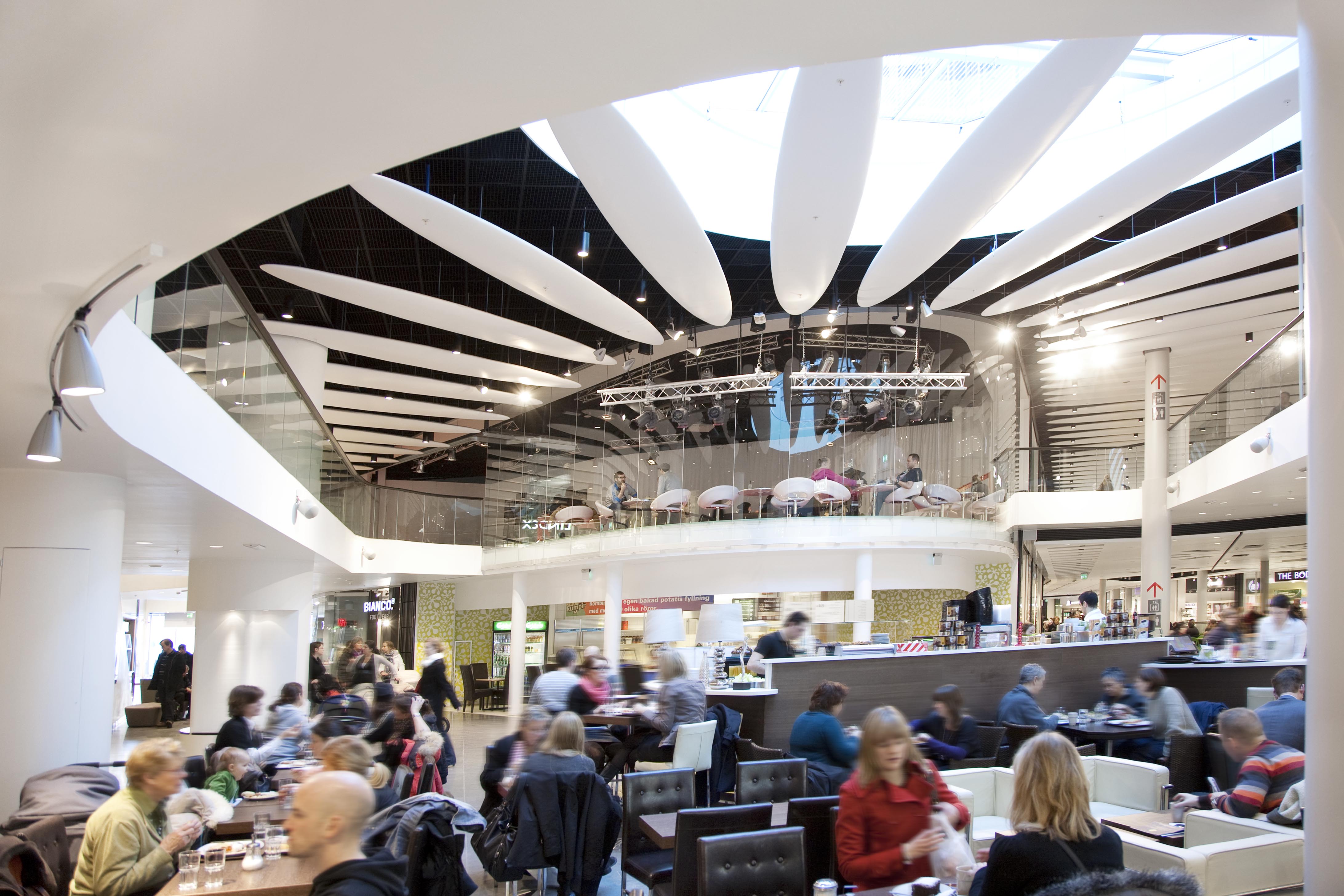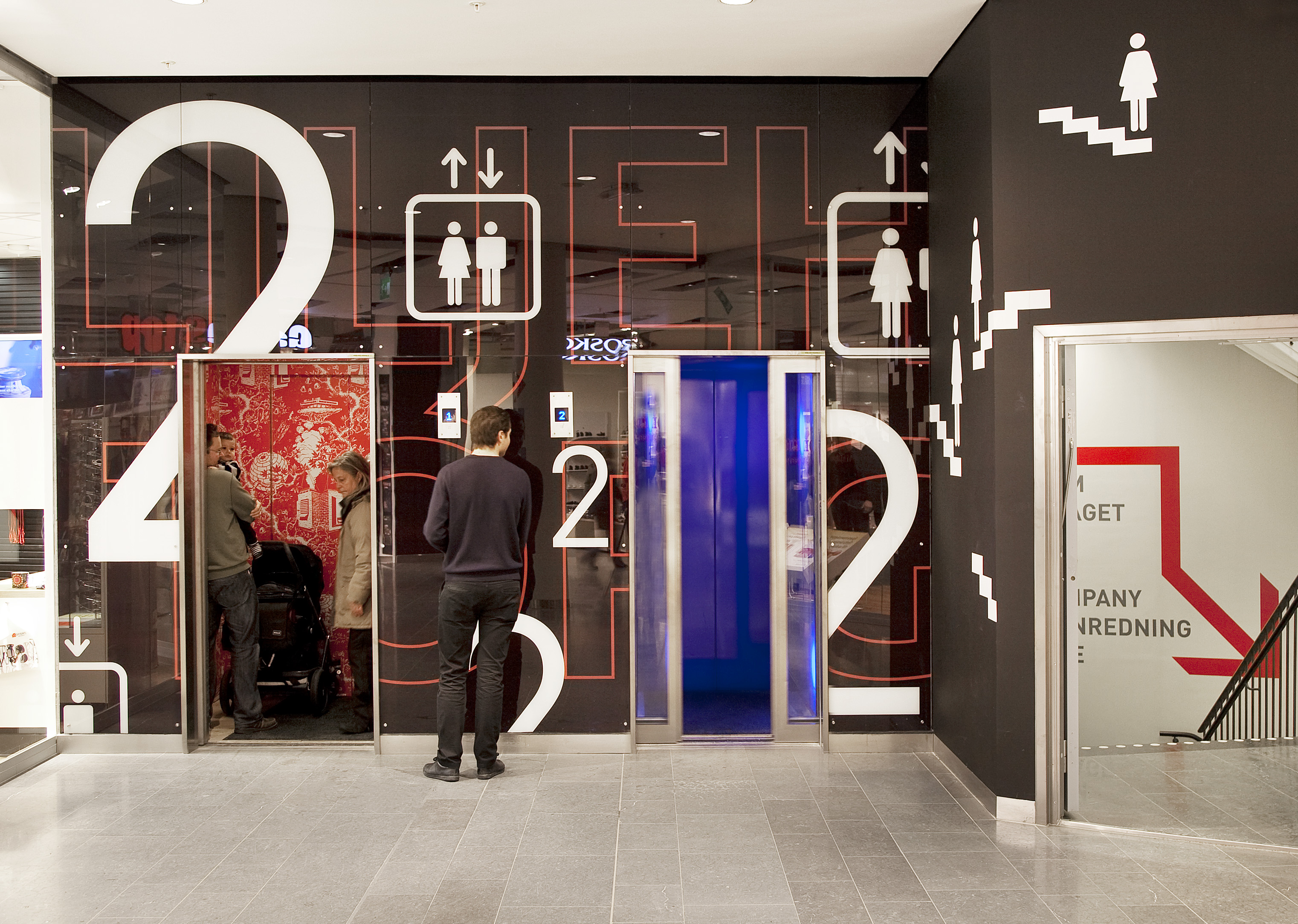 Location
Liljeholmen, Stockholm
Construction Period
2008-2009
Main Contacts
Fredrik Elsner and Ivar Kandell