NEW ENTRANCES AND A DEVELOPED RANGE OF FUNCTIONS AND SERVICES FOR PUNKT
Historic trading house Punkt has been given new entrances and a variety of new functions and services, as part of real estate developer Klövern's extensive investment in Västerås City. The overall goal is to create a vibrant city centre where people are put in focus.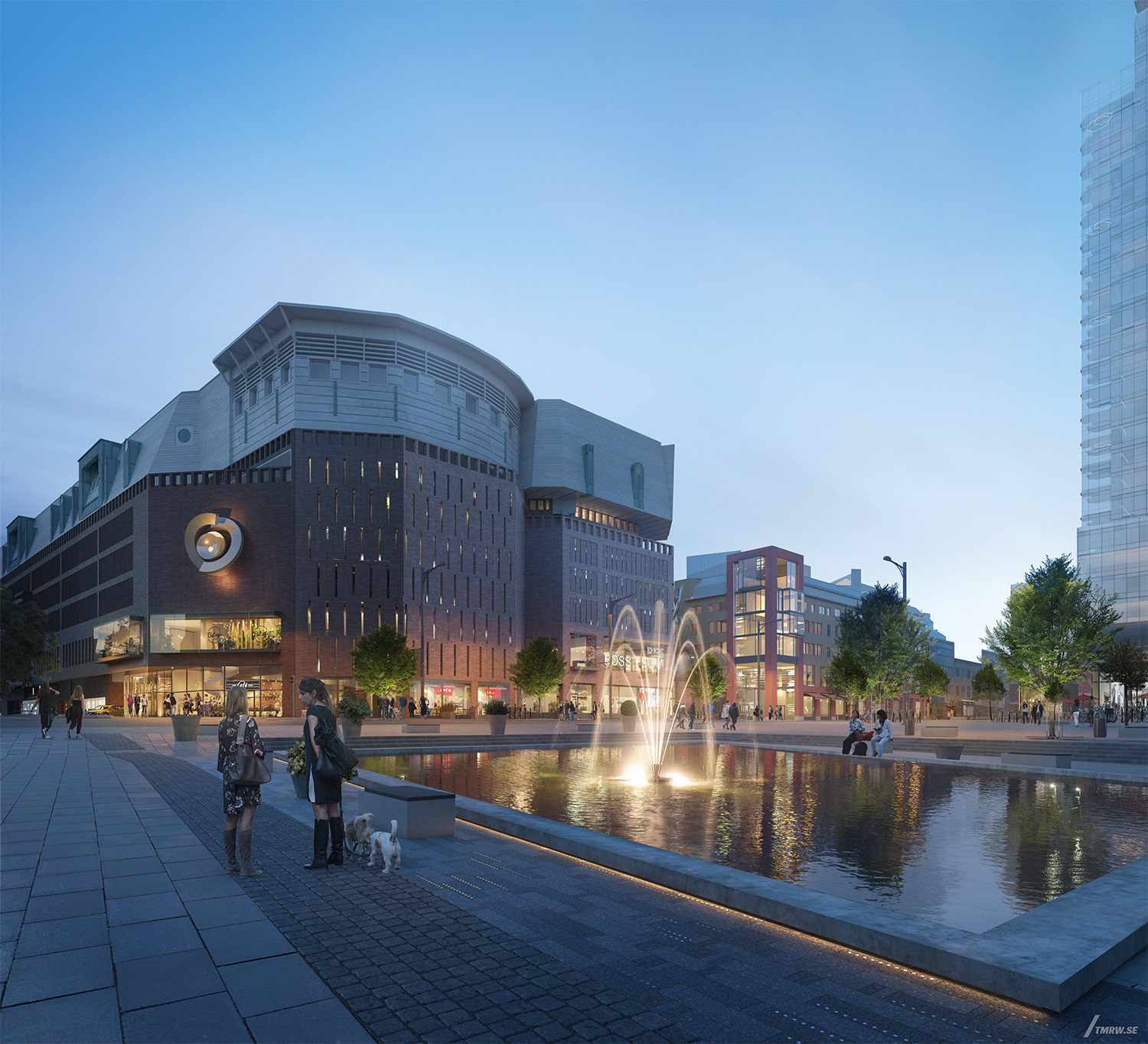 The redevelopment of Punkt's retail floors is one of the first subprojects in a new strategy for Klövern's significant property portfolio in 'Västerås CBD'. Visitor flows, connections, a range of functions and services and a multifaceted round-the-clock city centre are the project's guiding development principles. Among the most important elements are new and renovated entrances that facilitate easy-to-understand and effortless movement through the property.
At the same time existing footbridges over surrounding streets are being removed to make way for new opportunities and bustling ground floors. This strategy will not only have an impact on the Mats district and Punkt, but it will affect several of the surrounding properties too.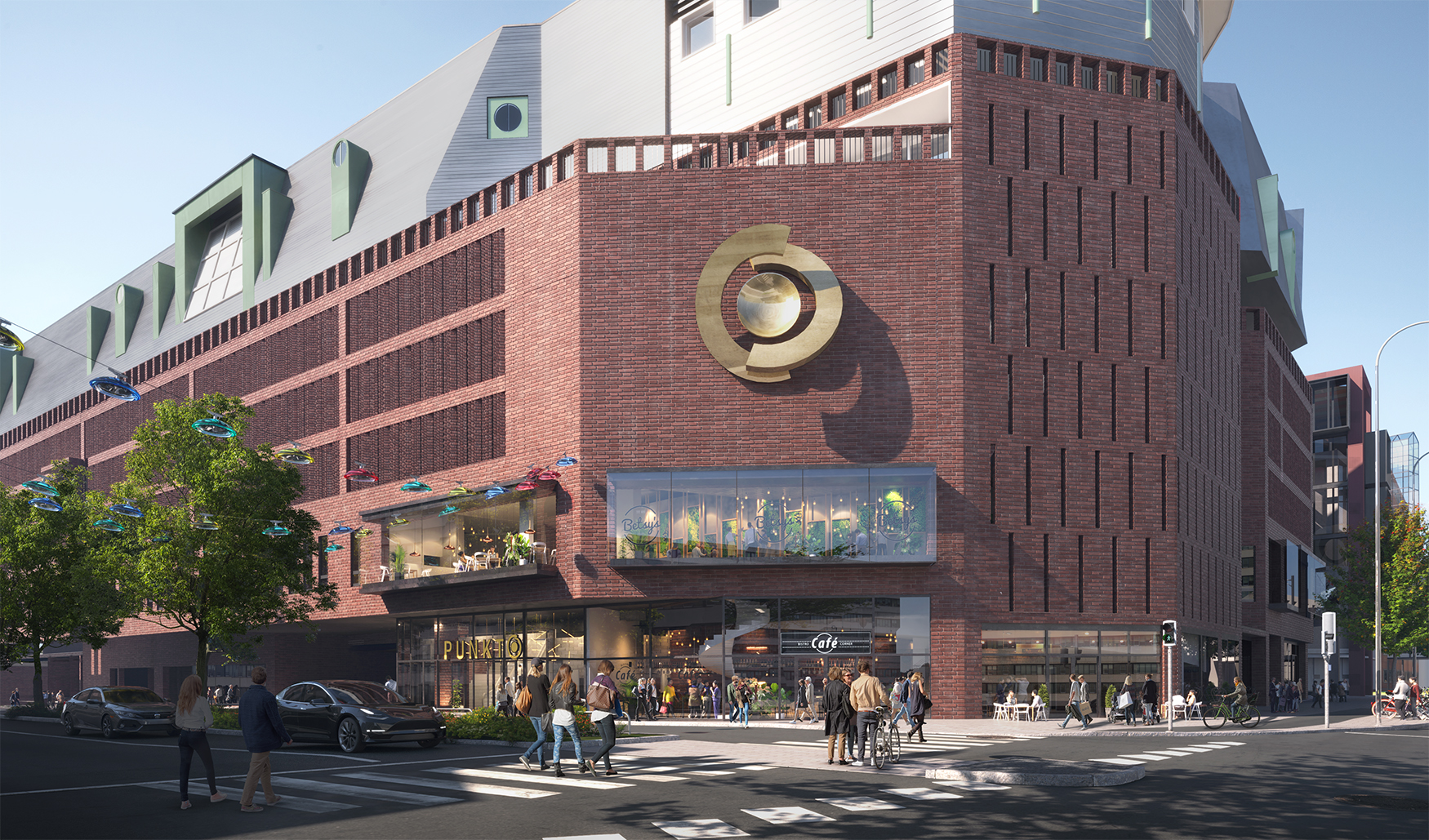 The conversion comprises approximately 5,000 sqm on two levels – both the street level and the first floor.
The building was originally designed by Backström and Reinius and built between 1966-1968. In addition to its modernist architectural style, the combination of parking, shops and services in the same building was something completely new for Västerås.
Västerås is one of Sweden's oldest cities. It is also the country's sixth largest urban area and growing fast. Västerås will become a university city at the end of this year, when Mälardalen College is upgraded to a university.
The overall development plan takes place in three districts; the transformation of the city centre, the densification and conversion of the eastern part of the city (from business areas to urban mixed-use) and finally the new city by the water, Mälarporten (which was formerly a port and industrial area), which will also incorporate a new travel hub – "Resecentrum".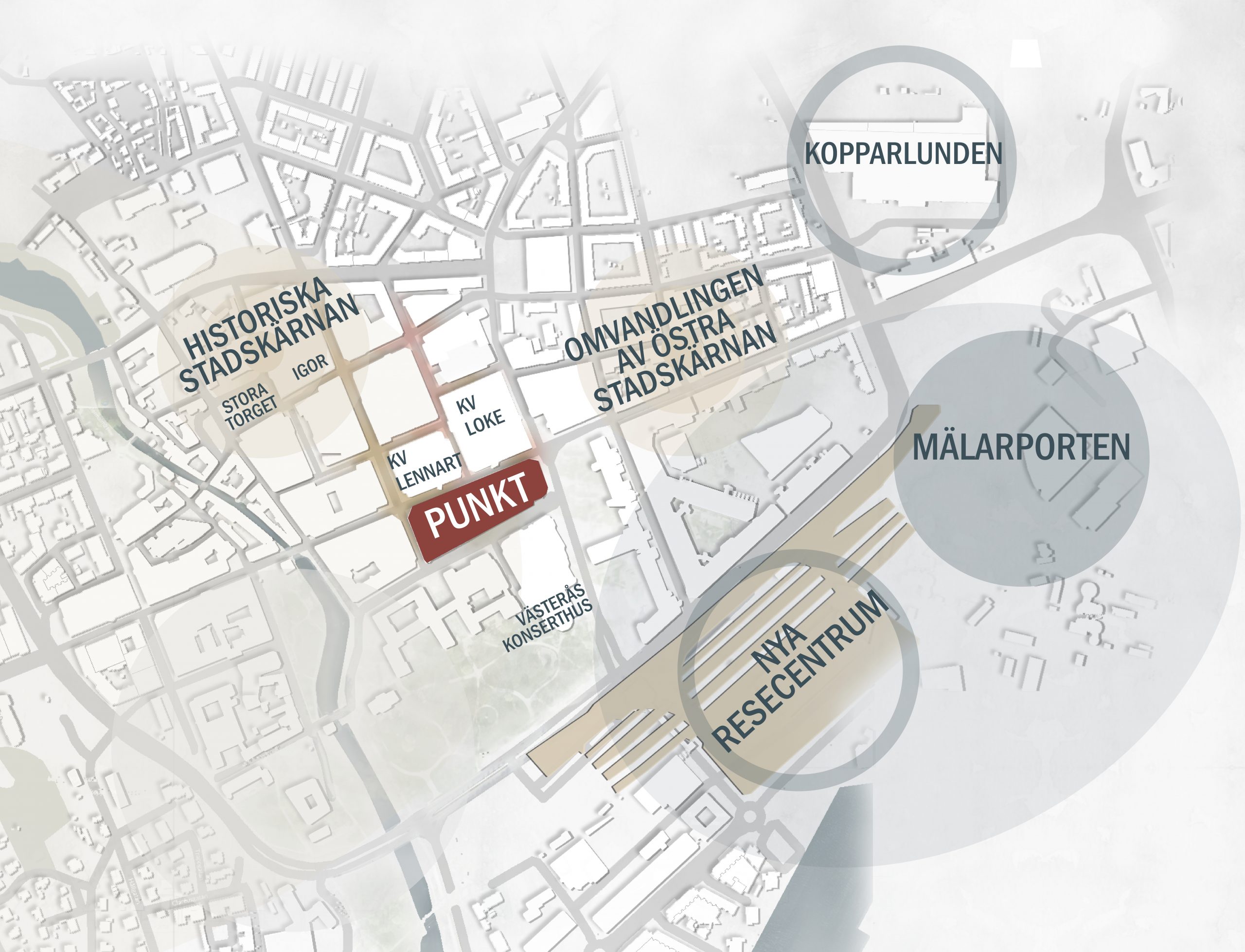 Our assignments for Klövern largely involve the transformation of the southern city centre, "CBD", and the development of the Sigurd district in the area south of the travel centre – "Resecentrum"- located in the new Mälarporten district.
Together with Klövern, we are envisaging a new vision for the entire southern city, with the aim of re-establishing a vibrant city centre. It is a huge investment with the goal of bringing new life to the area, with broader, more diversified content, concentrated flows and dynamic ground floors at its heart.
Our various assignments range from small 'here and now' tenant projects to larger renovation initiatives in the years to come, as well as new zonal plans.
Take a look at our Kvarteret Loke 24 project, and follow us for the latest news on more exciting projects we're working on.
Other reading: Västerås' footbridges are being demolished
About Klövern
Klövern is a real estate company that is committed to offering attractive premises and that actively contributes to urban development in growth regions. The company's vision is to create desirable and sustainable environments for businesses, individuals and the society of the future. Klövern is a subsidiary of Corem Property Group. Discover more at www.klovern.se and www.corem.se.
Project Type
Urban development, retail and parking
Location
Kvarteret Mats, Västerås
Construction Period
Ongoing